Home » Top Reviews »

BongaCams
| | |
| --- | --- |
| Website | bongacams.com |
| Model Speaks | English, Русский, Čeština, Eesti, Lietuvių, Български, Latviešu, Polski, Український, Suomi, Српски, Slovenski, Dansk, Norsk, Español, Svenska, Ελληνικά, Magyar, Slovenský, Română, Português, Hrvatski, Français, Italiano, Deutsch, Македонски, Nederlands, Türkçe, 中文, 한국어, 日本語, हिंदी, العربية, עברית |
| Payments | Credit Card, Debit Card, PayPal |
| Phone | 1-888-676-4409 |
| Email | [email protected] |
| Girls Online are Over | 2.2K |
| Mobile Friendly | Yes |
| Support | Friendly 24/7 Support |
Some Features of BongaCams
The most convenient interface worldwide
The biggest assortment of Girls
Free messaging
Sex in public rooms
Free group chats
Free contact data to ask a girl for a real date with real sex
Many extra-spicy categories.
Pros
Standard of quality. It's the most popular site with gorgeous girls worldwide
The cheapest pricing for the European girls
Site available in Russian and other languages
The HD is separated from SD performances
Sometimes, girls stream from public transport
All interactive features in divine quality.
Cons
Big traffic. Sometimes, you should get your place in the queue to watch a private show
Big yawn. Sometimes, models are too tired to show you something special.
The internet is full of sex and kittens. Sometimes, it has too much of both. But is there any reason why all webcams with boobs, asses and dicks are as popular as cute kittens? Yes — most of us simply want to satisfy some secret desires, which we can't do in our regular lives. So, we prepared our Bongacams review — the place where you can find all the lusty and dirty things you fantasized about but couldn't do in real life.
To be honest, this site is really the top-rated one among all cam sites. But it has another dark side of popularity. And we'll try to explain why one of the biggest sites is so close to being a scam.
Stolen Design: Our impressions of Bongacams.com
The first impression when you'll meet Bongacams.com will be… mixed! Yes, on the one hand — this is the same design that you've already seen on Streamate — one of the top cam sites from the USA. And yes, Bongacams completely copied it without any changes. But on the other hand, you're really accustomed to this design. All the important elements are in their place. And you'll find all you need using our navigation system. Here are the main provided features:
Categories as the main navigation function.
Filter by the bio of the model.
Filter by their body type or sex type.
Filter by user's tags.
And this is really convenient. You shouldn't care about the interface! You'll find all you want in one or two clicks. This is also viable for their mobile version of the site, which is perfectly optimized.
Regular features with cheap prices on Bongacams
When we're talking about services and features that Bongacams.com provides, you'll find all the familiar features like:
Private shows.
Private Chat.
Public Shows.
Multirooms.
Vibratoys.
Spying mode.
Secure mode.
And a lot of other things, which you may be already accustomed to using. But what is the difference between Bonga features and other sites'? Their price. This site is geared towards users from Eastern Europe. Many Eastern Europeans are not rich, so they can't pay a lot. That's why prices are awesomely low!
How to defeat Scam girls with the help of Bongacams Support
There is one thing you should keep in your mind before you create an account to start jerking off. While most free webcam girls are honestly glad to do a good performance, some of them may try to scam you in the next ways:
Performing a very slow show with high credit costs.
Providing recorded sessions instead of a real show.
Fake orgasms.
If you try to use the vibratoy donation function, you'll see through all their tricks easily. But how can you save face and get your money back from a scam show? Simple — just write to the support. They will watch this session and conclude if it was a scam or not. And if it was really a scam, they will ban the model, and return all your credits back.
So never blindly trust those shy girls! Some of these dirty sluts want to suck only your money without giving a good show.
Bonga Gays With Bonga Transes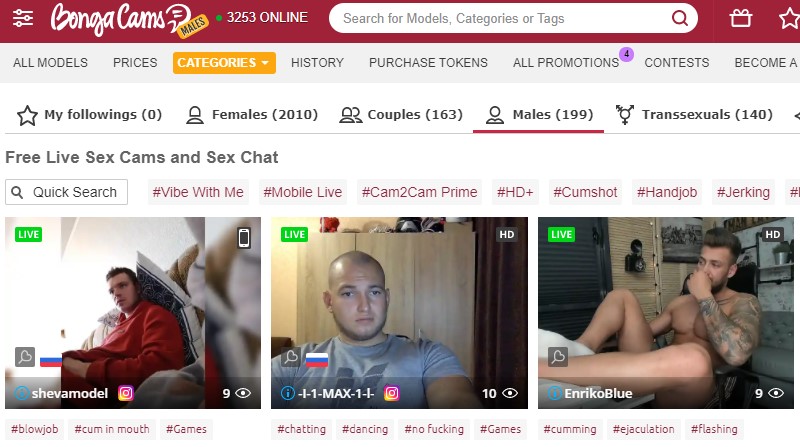 The gay side of the Bonga Cams is not very wide in terms of variety, but it is focused on real hard sex content. Only here you can find:
Gay sex (with some models defecating in the end).
Threesome lesbians squirting.
Trans models.
And this is only the tip of the iceberg. Some rainbow shows can really blow your mind, so be careful if you're not too experienced. This is some lusty, dirty content, which is always hot.
Is Bongacams legit in terms of providing proper LGBT content? Completely — all that you can find here is not prohibited in most countries.
Good news concerning Bongacams legal info
After hearing everything about this adult cam platform, you may ask yourself — Is Bongacams Safe (for your wallet, of course)?. When it comes to the safety of your mind, everything depends on your experience.
But Bongacams is fully safe in regards to your personal data and anonymity. No hidden billings are provided. Bongacams uses middlemen sites with SSL security. Thus, your billing info shows only neutral data, which isn't associated with your sexy fun in any way. Moreover, no one can steal your credit data, thankfully.
There are two things you should do when you're done. First, clear your browser history. Second, never try to download any mobile app for Bongacams from any suspicious sites. Yes, an official application for IOS and Android exists, and it works perfectly. Still, some regular members are looking for ways to download it from independent resources, which is quite risky.
So, what is Bongacams — top 1 or Dirty Scam?
So let's conclude all information about Bongacams:
Its design is stolen. But they stole from one of the best adult webcam sites.
Some girls will try to trick you by showing you recorded videos passing off as live streams. But you can contact the support team and get back all your money.
All features are standard. But they work perfectly.
Most of the models are amateurs. But they're ready to show you extra hard sex on cam.
Some of the performers are dirty sluts, so they have enough experience.
So how did this very inconsistent site in terms of quality become so popular? It's simple to explain. The prices. They're very low. You can watch most of the shows for almost free. But be careful and stay cool!
So, what is Bongacams? This is a real dirty place, but it can satisfy all your secret lusty imaginations! So don't simply trust us, just check it by yourself!